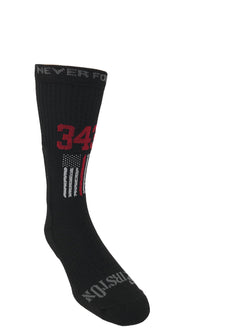 Crew (mid-calf) 
 Over-The-Calf (just below the knee) 
Our very special "Never Forget: 343" sock is a memorial to those brave 343 firefighters that lost their lives in the devastating attacks that occurred 9/11/01. With each purchase of these socks, a donation will be made to the National Fallen Firefighters Foundation, an organization that represents and honors the memory of fallen firefighters across the country.

$4.35 of the purchase price from the sale of 343 Never Forget Socks will be contributed to the National Fallen Firefighters Foundation. The promotion shall last until January 1, 2020. 
FirstOn Socks are 100% Made in the USA and are manufactured with 100% USA made fibers!
Materials
Our products are made with a combination of Nylon, in-house created LYCRA® Spandex, and FYnesse®STA-COOL® Polyester to prevent blistering. We also use a copper infused fiber called CuTECH®, which is a fiber composed of copper and polyester that enhances circulation and reduces bacteria.
We utilize Silver Tech Anti-Microbial which helps the sock continually fight bacteria on the inside and outside to prevent foot odor and infection. 
C4 Technology
C4 Technology was designed by the incredible FirstOn Research and Development Team to bring our customers the ultimate performance sock. The 4 C's stand for Comfort, Contouring, Compression, and Cushioning. 
Comfort: A stay-put comfort band around the top of the sock ensures that "hungry boots" will be a thing of the past.
Contouring: The leg of the sock is contoured to provide the appropriate graduated compression which prevents swelling. 
Compression: Strategically placed areas of compression throughout the sock provides maximum support in the ankles, leg, and arch of the foot. 
Cushioning: Extra cushioning is placed in high impacted areas such as the heel, ball of the foot, and ankle to lessen impact and reduce blister-causing friction.
|   | SOCK  | S | M | L | X-L | XX-L |
| --- | --- | --- | --- | --- | --- | --- |
| SHOE  | M | 4-5.5 | 6-8.5 | 9-10.5 | 11-12.5 | 13-16 |
|   | W | 5-6.5 | 7-9 | 9.5-11 | | |